MR. SANJAY KHURANA
PRESIDENT
HUMAN CARE MEDICAL CHARITABLE TRUST
Engineering (Electrical) from New York Tech, U.S.A.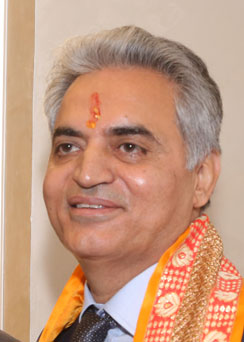 Sanjay Khurana is a renowned NRI Businessman and Philanthropist. He has risen from his humble beginning and out of his own sheer gut and determination. He was born in Meerut, India in the year 1961. His father Late Dr. Hari Krishan Khurana was a Medical Practitioner. Sanjay migrated to U.S.A. in the year 1978 and joined the Prestigious New York Institute of Technology and Graduated with B.E in Electrical Engineering.
After completion of his studies he started on his own as an Entrepreneur and opened various pharmacy outlets in New York and also dabbled in real estate. Thereafter, with changing times he shifted his sight towards the telecom sector and met with huge success therein.
Despite having met huge success and having lived for more than two decades in U.S.A. the love for his home land and wish to serve his fellow countrymen brought him back to India in the year 2001 and he became the President of Human Care Medical Charitable Trust, Dwarka, Delhi and sought to establish a State of the Art Multi Speciality Hospital to provide cost effective Medical facilities to the public at large and also provide medical aid to all section of the society.
With his tireless gut and determination, has been instrumental in setting up a State of the Art Multi Speciality Hospital in Sector-6, Dwarka which is a benchmark in Delhi NCR in the field of medical facilities it seems to provide to the citizen of the India & World at large.